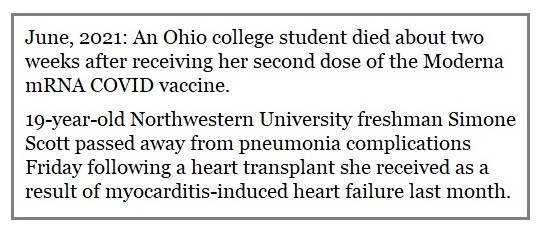 "I'm a nurse, and I have witnessed 2 healthy young men get diagnosed with carditis/heart failure, and then receive heart transplants within a month or two
of the jab. No previous cardiac history. This is absolute genocide." -Andrea Lynn
VAERS #s for Covid Vaccines as of July 12, 2021:
438,440 Adverse Events, 26,818 Hospitalizations
3,324 Heart Attacks, 2,200 Myocarditis Reactions
7,463 Disabled, 985 Miscarriages, 9,048 Deaths
Trailer for Vaccines Revealed, Covid Edition: FREE 9-Part Series, Starting Feb 9, 2021. Click the link below this video to register.

Register for Vaccines Revealed - Covid Edition
BREAKING! Why the Vaccines are Causing Blood Clots, Heart and Neurological Damage, and many more unanticipated side-effects
"In short, the conclusion is we made a big mistake. We didn't realize it until now. We thought the spike protein was a great target antigen. We never knew the spike protein itself was a toxin; a pathogenic protein. By vaccinating people we are inadvertently inoculating them with a toxin. For some people it will get into circulation, and when that happens it can cause damage, especially in the cardiovascular system." — Byram Bridle Ph.D, Immunology Listen to 9 min interview:
CNA: "Seniors are Dying Like Flies after Covid Injections!"
Serious Vaccine Adverse Reactions in Healthy People
A Look at 81 Adverse Event Reports after mRNA Vaccine
No doctor or nurse can administer a Covid shot without violating the fundamental ethical tenet of "First do no harm."
In Dr. Charles Hoffe's open letter to colleagues, he describes the death of one woman, and the state of another, who was so neurologically damaged by the shot that she no longer wishes to live.
"It must be emphasised, that these people were not sick people, being treated for some devastating disease. These were previously healthy people, who were offered an experimental therapy, with unknown long-term side-effects, to protect them against an illness that has the same mortality rate as the flu. Sadly, their lives have now been ruined."
After Dr
Hoffe
emailed colleagues about the severe consequences of the Moderna Covid shot in his community, he was told in no uncertain terms to stop speaking about the shots. Fortunately, he was duly outraged at the attempt to throttle him and has been speaking out about them anyway. Here is an interview with Dr Hoffe:

Report a Covid-19 Vaccine-Injury/Reaction to ICAN
"Side effects may include death. Ask your doctor if death is right for you."
Dr Jane Ruby: Guillain Barre (Neurological) Syndrome
Dr Farella, Director of Pediatrics, America's Frontline Doctors
Neurological Problems After Pfizer Shot in Healthy Woman
Facts You Need to Know Before Taking a Covid-19 Vaccine